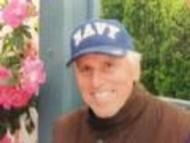 Ronald Wayne Forbes
Born: 1944

Died: 25 July 2017
After living a life rich with passion and adventure, Ronald Wayne Alan Forbes lost life's final challenge with courage, dignity and humor. Surrounded and wrapped in the love of family and friends, Ron passed away peacefully on July 25th at his home in Kelowna, BC.

His love for flying led him to a 38 year career in aviation, as a naval pilot in the CAF and then as a 737, Hercules, DC10 and 747 Captain with Pacific Western Airlines, Canadian and finally Air Canada.

He retired in Kelowna, where he was able to showcase his talent for landscape gardening and host his boisterous clan of 14 and childhood sweetheart and wife of 50 years, Beverley, in the beautiful backyard of his home.

Illustrious as his flying career was, his proudest achievement was the raising of his 4 accomplished children and 10 grandchildren. To them he was "Big Bad Baba" and was a mentor, instigator, advisor, and a fitness coach, and will always be remembered for his huge radiant smile, his contagious enthusiasm, his legendary sense of humor, and engaging conversation.

A special thank you to all the doctors, nurses, and staff of the KGH and Cancer Center.

Thank you for being the Captain in our Lives

Published in the Edmonton Journal 21 August 2017.
Return to previous page