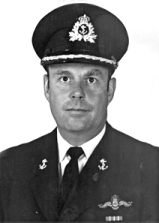 Paul Scales LeGALLAIS &nbsp LCdr
Born: 01 July 1937

Died: 17 July 2018
Paul LeGallais passed away peacefully in the Cowichan District Hospital after a brief illness. For the past 25 years, he and his wife Liz have lived happily in retirement on Thetis Island, BC. He is also survived by his brother and sister-in-law, David and Linda LeGallais, of Stouffville, Ontario.

Paul's parents, Perce and Victoria (nee Scales), raised their two boys in Etobicoke, Ontario. Paul spoke fondly of childhood summers spent swimming, fishing and sailing at the family cottage in Muskoka. Paul was pre-deceased by his wife Mona Lillian (known as Betty) early in his adult life and continued to hold her memory and her Nova Scotia family close to his heart. Paul was the proud patriarch to a large family comprising three sons, three stepsons and his beloved grandchildren. His son Brad LeGallais lives in Halifax with his wife, Susan and their son, Garrett. Their daughter Morgan now lives in Toronto. Paul's son Bruce LeGallais lives in Rutland, Vermont, with Diane. His son Blair LeGallais lives on Vancouver Island as do his two daughters, Maris and Josie, and their mother Michelle. In 1985, Paul welcomed three teenage stepsons into his life when he married Liz. Today Mark Rao lives in Coquitlam with his wife Heather and their two daughters, Emmalee and Hannah. Neil Rao lives in Waterloo with his wife Laura and their children, Kevin and Elise. John Vennavally-Rao lives in Toronto with his wife Tammy.

Paul joined the Royal Canadian Navy in 1956 after spotting an ad in the paper. He loved to tell stories about his early days including officer training in HMCS Venture. Aboard the destroyer HMCS Kootenay, he earned his watch keeping ticket needed to drive naval ships. He piloted minesweepers and then pursued diving. He served both as a clearance diving and bomb disposal officer. In the 1970s, Paul spent 4 years driving a small submersible called the Pisces IV deep underwater including below the Arctic ice. One of his favourite memories was a 2-year exchange with the British Navy teaching minesweeping. He went on to become Executive Officer of Fleet Diving Unit Pacific and Atlantic and later Commanding Officer of the West Coast Diving Unit in Esquimalt before retiring after a 37-year military career.

In addition to family and the Navy, Paul had many passions. Running, swimming, diving, hockey, tennis and more. With Liz and their beloved dog Ricco, they sailed the West Coast on their boat the Priority. He remained a loyal Maple Leafs and Blue Jays fan despite his claim that he loathed Toronto. He was famous in the family for his delicious roast chicken dinner. He was a voracious reader and took pleasure in completing a daily crossword puzzle at breakfast. Paul was a larger than life personality who delighted in debating current events and retelling Navy stories. He will be remembered and missed by his family and by friends from the Navy and Thetis Island.

His family will host a Celebration of Paul's Life on Sunday, August 19, 2018 from 1:00-4:00 pm at the Thetis Island Community Centre. In lieu of flowers, please consider donating to a local animal shelter in honour of Paul's much loved family pets. Condolences may be offered online at Sands of Duncan.

Obituary was originally published by Victoria Times Colonist 21-22 July 2018.
Return to previous page