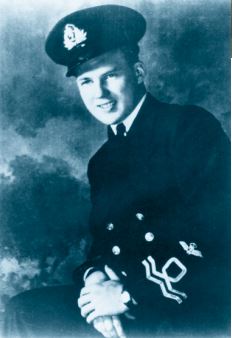 A Place for
Hammy Gray
Many know of Lt. Robert Hampton Gray, VC, DSC, RCNVR—a hero recognized not only by Canadians, but also by the nation he fought against in the Second World War.

Raised in Nelson, B.C., he was attending UBC at the outbreak of the war. He joined the RCNVR as an Ordinary Seaman and was selected for flying training. On gaining his wings he was commissioned as a sub-lieutenant and sent for training in carrier operations in the UK. He served in several theatres of war and was awarded the Distinguished Service Cross for fearlessly pressing home air attacks on the German Battleship Tirpitz.

Sadly, on Aug. 9, 1945, while leading air attacks on Japanese naval ships in Onagawa Bay—sinking the destroyer Amakusa—his plane was hit by anti-aircraft fire and crashed into the bay where his remains lie to this day

Hammy, as his fellow pilots called him, was posthumously awarded the Victoria Cross, making him the most highly decorated Canadian Navy hero in the Second World War as well as the only British Columbia pilot to receive the honour.

In 1989, in a unique gesture of respect and reconciliation, a memorial was erected to Hammy overlooking Onagawa Bay. It is the only memorial ever erected to a former enemy on Japanese soil. Visiting Canadian Navy ships always send a contingent to conduct a ceremony there. While recognizing the huge honour signified by the Onagawa memorial and other markers here in Canada, former navy man Joe Buczkowski felt strongly that we must erect a memorial to Hammy here in Victoria so that young Canadians in the future may also know of Hammy Gray's bravery and sacrifice.

Initial planning is for a memorial cairn in black marble with etchings of Hammy told in lettering on bronze plaques.


The memorial will be set in a landscaped area of quiet reflection at a newly designed entrance to the British Columbia Aviation Museum in Sidney, B.C.
We need to raise $25,000 to make this plan a reality. The Naval Association of Canada (NAC) Endowment Fund has donated $2,500 and the local branch, NAC-VI, has agreed to accept donations on behalf of the project.
Please send your donation to:
Naval Association of Canada, Vancouver Island
Box 5221, Victoria, B.C. V8R 6N4
Make your cheque payable to: Naval Assn of Canada – VI
On the memo line write "Lt Gray Project". Provide a return address for your receipt.
Return to previous page