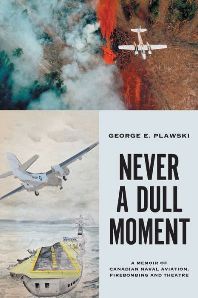 Never a Dull Moment

By George C. Plawski


Greetings Everyone,

Thank you for your patience, your long wait is finally over.

The long anticipated printing of this narrative, which offers riches far in excess of merely being A Memoir of Naval Aviation, Firebombing and Theatre as proclaimed pithily on the cover, is now complete, and may be purchased on Amazon, Chapters, and soon on Barnes and Noble.

However, I would like to self-servingly encourage you to purchase directly from the publisher, Friesen Press, which maximises my royalties.

Go to Friesen Press Bookstore and type in my name, or the title Never a Dull Moment, and after a nod from your financial institution, the world according to Plawski will wing its way into your imagination.

With best wishes for a transformative reading experience, George.


Overview
George Plawski was born in Gdynia, Poland, in 1934. His father, Eugene, was a senior naval officer who fought in both World Wars in the capacities of pilot, and as the commander of surface ships as well as submarines. Before the war, he lived with his wife Maria in Warsaw.
Never a Dull Moment lives up to its title as George takes us back to his youth under the Nazis in WW2, describes his and his mother's separate escapes from Communist occupied Poland to join his father who spent the war years in the Polish Navy in England, and their subsequent immigration to Canada in 1948.
This colorful memoir traces the family's unusual history, and recalls the severe hardships which faced his parents in starting their lives anew in this beautiful and free, yet in the in the immediate post-war years, a thoroughly challenging land.
In a series of humorously recalled anecdotes, the author portrays the process leading to his commission in the Royal Canadian Navy, to obtaining his wings, and to becoming a pilot flying off the aircraft carrier, HMCS Bonaventure.
After leaving the service in 1964, Plawski returned to UBC to finish his BA, then completed three years of post-graduate studies in theatre, specialising in directing, which was funded by his summer job flying air tankers on forest fires.
The book continues with suspenseful accounts of Plawski's founding of Vancouver's City Stage, the thrilling saga of the often hair-raising pioneering days of firebombing in California and in Canada, and of the hilarious aerial circus of budworm spraying in New Brunswick.
This story is embellished with a telling of his meeting with a beautiful and cultured girl from Paris whose name is Rita; of their unconventional romance, their travels around the world, of her loving and essential collaboration in the author's idiosyncratic lifestyle, and of their eventual marriage which is happily doomed to continue to the end of this grand adventure....
Webmaster Note - available in hardcover, paperback and electronic versions.
Return to previous page